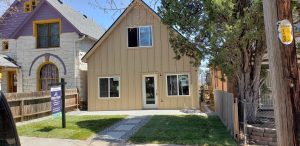 Check out the latest at our Kalamath Project. After giving this house eight inches of high efficiency spray foam insulation its time to start the drywall.
We also had our awesome landscapers from Eagle Landscaping come out clean up the yard and pour a front and back concrete patio. Watch the video and tell us what you think of this property so far!
If you or someone you know is looking for a house in #Lo-Hi #TheHighlands or #SunnySide contact us and let us know you are interested. This one will be moving along quickly now. We have already had a lot of interest in it, so make sure you get on the list to be the first to know about updates and availability.
You can reach us at 303-457-1181 or info@bluehalohomes.com